App Download & Use
 App Download & Use
Easy management with exclusive KiMiFi app, SIM-free, hassle-free, no extra roaming charges, we promise high-cost performance.
1. Scan the QR code on the device to download App (or search 'KiMiFi' in App Store or Play Store).
2. Register an account by E-mail.
3. Scan the device's QR code again in the App for activation.

4. Purchase data package by PayPal, Visa, MasterCard, JCB and so on.
5. Press the "Power" button on the device to turn it on.
6. Wait for the device to connect the network, the signal light will turn on once connected successfully.
7. Connect Wi-Fi by the name and password shows on QR label.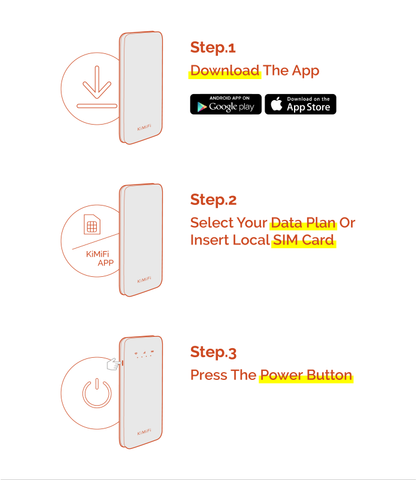 iOS & Android App Download
                          Purchase Data Package on KiMiFi App
                                                       System Connect